Ⅰ
.
C
hoose suitable packing style
Some factors will affect the choice of packing as follow:
a.
Style of equipment--------pump, valve, stirrer and so on
b.
Condition of equipment-------new and old status, the gap between shaft
and stuffing, the shaft running true centred or eccentric
c.
The physical characteristics of medium-------gas medium, liquid medium,
abrasive medium, sticky medium etc
d.
The chemical characteristics of medium------acidic medium, caustic
medium etc
e.
The temperature of medium------consider the frictional heat between the
turning shaft and the packing, the factor of heat-transmitting properties etc
f.
The pressure of medium
Ⅱ
.
Confirm exact packing cross section
Ⅲ
.
Calculating the exact length of packing ring
Ⅳ
.
Cut the packing ring exactly
Usually

use

4
5°
cut
Ⅴ
.
Inserting the packing ring into the stuffing box as graph as follows: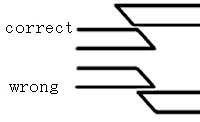 Ⅵ

.
Press the packing ring group out, adjust the leakage capacity up to the
acceptable level.